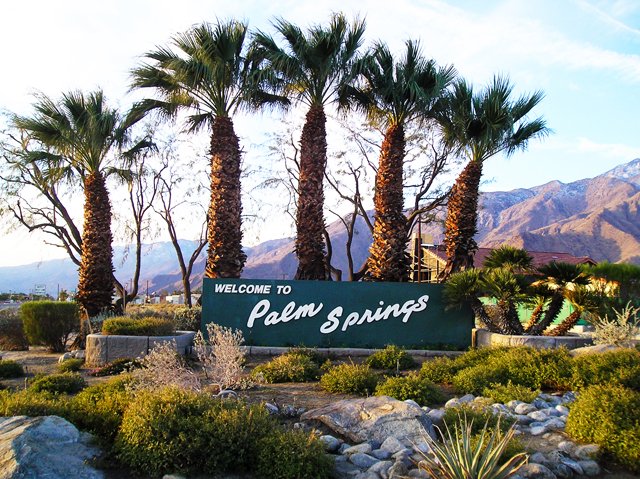 Sunny Palm Springs, one of the most famous resort destinations in the US, if not the world, is
situated at the base of 10,831 ft. Mt. San Jacinto, and lies on the western edge of the Coachella
Valley, within the rugged Colorado Desert. Palm Springs is located approximately 110 miles
southeast of Los Angeles and 140 miles northeast of San Diego. A charming small-town
attitude prevails – the permanent year-round population of Palm Springs is approximately
46,000, but more than doubles during the winter months.
Directly to the east of Palm Springs are several other desert cities including Cathedral City,
Rancho Mirage, Palm Desert, Indian Wells, La Quinta, Indio & Coachella, each with their own
distinct personality and ambiance.
For hundreds of years, the Palm Springs oasis was home to the Agua Caliente Cahuilla Indians,
who developed extensive communities in the surrounding canyons. Abundant water and lush
vegetation ensured stable living conditions for these native inhabitants. Many remnants of their
existence remain to this day and are found in rock art, trails, reservoirs, and ruins. Today the
Agua Caliente band of Cahuilla Indians continue to thrive and prosper. They operate two hotels,
two casinos, a golf resort, entertainment venues, and thousands of acres of Coachella Valley
land which they lease.
Palm Springs enjoys more than 350 days of sunshine each year with an average 3"-5" of rain
annually (at least in a wet year!) Winter temperatures average in the high 70's with nights in
the mid-40's. The dry desert heat of summer pushes daytime temps into the 100s, which is
enjoyed by sun seekers from around the globe. The very geography of Palm Springs is what
creates the famed warm, dry climate. It is sheltered by the Little San Bernadino mountains to
the north, the rugged Santa Rosa mountains to the east, and the San Jacinto Mountains to the
west.
Palm Springs has long been a Hollywood getaway for A-list entertainers. Even to this day,
celebrity sightings are relatively common place. The city offers visitors and residents a wide
array of world class dining options and a variety of annual events, including the Palm Springs
International Film Festival, Modernism Week, and VillageFest every Thursday night on Palm
Canyon Drive.
Residential neighborhoods include Old Las Palmas, with its fabled celebrity estates; the Movie
Colony, Deepwell Estates, Little Tuscany, The Mesa, Sunrise Park, Racquet Club Estates,
Warm Sands, Vista Las Palmas, Gene Autry, Tahquitz Rive Estates, Twin Palms and many
more…each with its own mid-century residential jewels and unique vibes!
Sorry we are experiencing system issues. Please try again.